Hubby bought something he like and crazy about today. The durians. I have no comment on this because I like it too sometime but seriously...10 of them? Did I mention it's a size of a basketball?

Imagine ten basketball in my small kitchen ?

This is the RM 1.50 durian. (No wonder..)

The kids is eating along,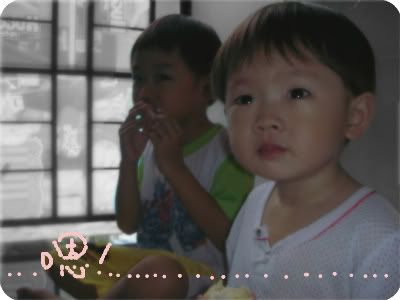 But Brandon is still in practice

( We found him throwing away the one he is eating as people is throwing away theirs too! )
It's the durian season at our place, every household is selling theirs extra durian on the side of the road. (Almost every family in the "Kampung" = Village has their own durian trees.) Some of them is selling at a very low price, but most of them is selling at a RM5/ea.
This is the second time this year, the first time was at May, I think. But back then, because of the less amount of it's so they were selling at RM10/ea. We didn't need to bought any durian that time, because my father send a lot of them to us.
Well, I have to admit that it's has cause me gaining 2kg of weight that time...sigh....sad.
Then I'm back to my craft's talk...
As I mention before about the roses I saw from the neighbour, I have finally finish some of them myself.
and so I have four of them now, I have a feeling about making them to bracelets..

I don't know yet. I'm just fancy of making them only, haven't thought about the use of them.

What do you think?

By the way,

Happy New Year to all of you!