There is no snow at our place in winter, only rains..lots of them. But I love rains too!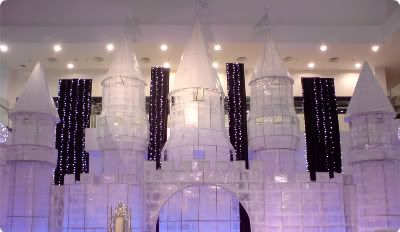 The first day of Christmas, we went to The Spring Mall. Take some picture there, the kids have fun.

This is the castle.

The ice cube house

The stalls

Then the second day, we visiting the neighbours and eat a lots of the snack at their house, found so many secret in their recipe too...yum..yum..and lucky me..they love to share it with me too.
They were the local people who doesn't speak Chinese, but we didn't have any problem talking with them. I ask the lady in the house about the whole set of lace things in the living room, she told me that it's make by her maid. I was then very impolitely go toward to the maid and ask her about the knitting secret of hers...she didn't have a pattern.
I have been busy knitting these few day trying to make the flower like the one I saw, it's really fun making it to different shape and different colour. Mix and match is my favourites...