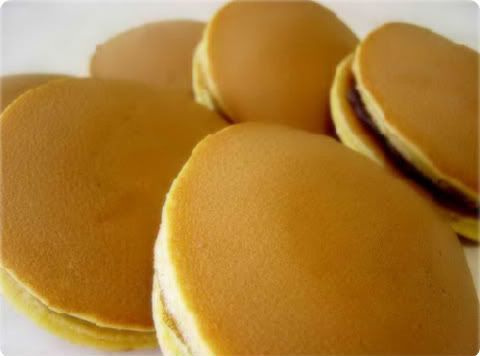 Ingredients

3 eggs

75g flour

75g high protein flour

1/4 tsp bicarbonate of soda

1 tbsp ovalette

150g Castor sugar

15g honey

65g water

filling

peanut butter, red bean paste or fruit jam.

method:

- sieved flour, high protein flour and bicarbonate of soda, for use. Dissolve honey in water, for use.

- Beat eggs, sugar and ovalette till spongy, add in honey water, gradually stir in mixture of flour till smooth, leave for 10 minutes.

- Heat up a frying pan, coat with a thin layer of oil, put in mould, scoop in tbsp of flour paste, remove mould when done. Fry both sides till golden brown.

-Brush some favourites filling, cover with another piece of pan cake and there you go.